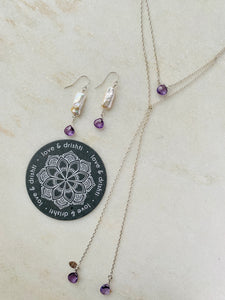 3 Vibrant pink Amethysts, sterling silver. 


End to end length approximately 39 3/4"
Amethyst is a natural stress reliever that encourages inner strength and brings abundance and a strong business sense to its wearer. It is a crystal of spiritual growth and protection. It brings clarity of the mind to their owner and helps one become more in tune with feelings to know yourself on a much deeper level. Amethyst crystals repel negative energy and attract positive energy, making them a wonderful protection stone.
*each amethyst gemstone is unique and each lariat will vary slightly.