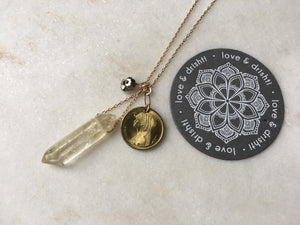 Egyptian Queen Cleopatra Coin, Citrine Crystal Point, Pyrite, 18" 14k gold filled chain, gold filled. 
The last active Pharaoh of Egypt, Cleopatra, was the embodiment of intellect, power, and the romantic femme fatale. 
Pyrite is known to remedy financial hardship and attract abundance. The resemblance of Pyrite to gold has made it a traditional symbol for money and good luck. Its sunny golden color associates it with the sun and with the fortification and strengthening of the mind. Pyrite makes a wonderful energy shield, blocking out negativity from various sources.
Citrine is a stone of light and happiness. It does not hold any negative energy and therefore never needs to be cleansed. It brings clarity to those who wear it and helps to manifest anything you want to bring into your life. It activates your imagination, bringing more creative visions to a clearer mind and a more positive outlook in life. Powered by the Sun, Citrine warms, cleanses and energizes the body, energizing and strengthening the solar plexus.