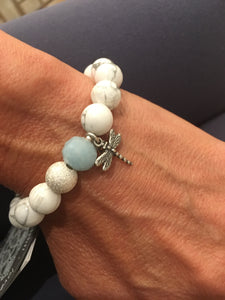 Aquamarine, White Howlite, sterling silver. Fits up to 7" wrist (average women's wrist size) 
* please reach out to me directly with custom size requests. 


As a child, my grandmother told me that dragonflies are the link between the earthly world + the spiritual world and now, whenever I see one on my path, I think of her and sense that she is here with me, gracefully guiding my way...
Aquamarine is a "stone of courage" providing a shielding property for the aura + the subtle bodies. It stimulates, activates + cleanses the throat chakra, facilitating a higher quality of communication + expression and helps one to attune to more spiritual levels of awareness.
White Howlite is a calming stone for upset states of mind + emotions. It decreases the overly critical state of mind, selfishness, stress and anxiety, bringing calm and relaxation. In the wake of such calming one can find comfort in their truth without the need to be anything more than who they are. White Howlite is also believed to heighten creativity + expand self-expression.