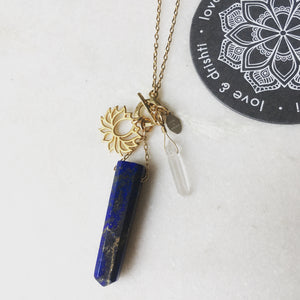 Bronze Lotus Flower, Lapis Lazuli, Clear Quartz, 18" 14k gold filled chain
Lapis lazuli It is a gemstone of total awareness that connects the wearer to a higher truth, helping to foster verbal expression by opening and balancing the Throat Chakra. It provides wisdom and connects you to your spiritual guardians, shielding you from negative energy and returning any negative vibrations back to their source.
Clear Quartz is a manifestation stone that energizes and activates the energy centers within the body. It helps one to think clearly allowing a clear focus in relation to dreams and desires + assist with spiritual development. Clear Quartz helps to removing blockages in the body so that energy can flow smoothly. When worn with other crystals it serves to amplify the energy of those crystals.

The lotus flower is one of the most ancient and deepest symbols of our planet. The lotus flower grows in muddy water and rises above the surface to bloom with remarkable beauty. ... rising from a dark place into beauty + rebirth, symbolizing the purity of heart and mind.