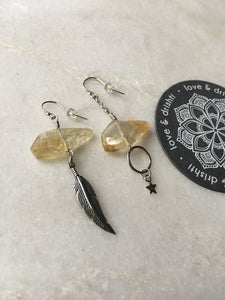 Natural Citrine and sterling silver asymmetrical drop earrings (approx. 2 1/2" long)  
The feather symbolizing spirit and the star symbolizing the sky and heaven above. 
Citrine is a stone of light and happiness. It does not hold any negative energy and therefore never needs to be cleansed. It brings clarity to those who wear it and helps to manifest anything you want to bring into your life. It activates your imagination, bringing more creative visions to a clearer mind and a more positive outlook in life. Powered by the Sun, Citrine warms, cleanses and energizes the body, energizing and strengthening the solar plexus.