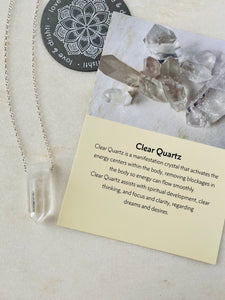 Clear Quartz Crystal on 24" sterling silver chain. 


Clear Quartz is a manifestation stone that energizes and activates energy centers within the body. It helps one to think clearly allowing a clear focus in relation to dreams and desires + assists with spiritual development. Clear Quartz helps to remove blockages in the body so that energy can flow smoothly. When worn  with other crystals it serves to amplify the energy of those crystals.
*Each Crystal is unique and each pendant will vary slightly. Please reach out to me directly with questions and specific size requests.