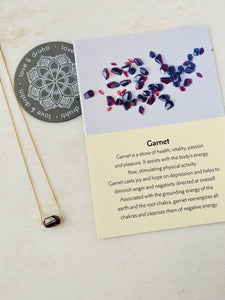 Garnet Pendant on 16" 14k gold filled chain. 


Garnet is a stone of health and energy that enhances energy, passion and pleasure. It is said that the only light on Noah's Ark was provided by a Garnet stone. It helps to move the chi and energy flow within the body, stimulating physical activity. Garnet is a good stone to help with depression, as it brings joy and hope to the wearer and helps lessen the anger directed at oneself. It also cleanses the chakras of negative energy, re-energizing them in the process.
*Each Crystal is unique and each garnet will vary slightly. Please reach out to me directly with questions and specific sizing requests.