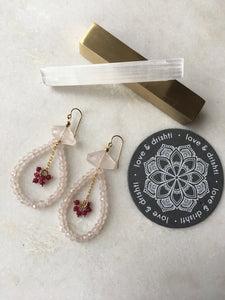 Rose Quartz, Ruby, 14k gold filled, (approx. 2 1/2" drop)
From ancient times to modern times the Ruby has been valued by cultures around the world as a Talisman of protection, beauty, vitality, nobility, purity, prosperity and passion.
Rose Quartz is the stone of unconditional love. It is one of the most important stones for heart chakra work, as it opens the heart to all types of love - love of the self, love of family, love of friends and romantic love. The soothing energy of rose quartz fosters empathy, reconciliation and forgiveness of others, lowering stress and tension of the heart. It can clear out anger, jealousy and resentment towards others, allowing the healing of heart issues caused by holding on to these negative emotions.